RAZERTIP PYROGRAPHIC TOOLS

Razertip pyrographic tools have been setting the standard for hot-wire pyrographic tools for over 17 years now. Razertip burners feature near instant heat response, ultra-sharp tips (120+ lines per inch), and your choice of the smallest handpieces on the market! We have over 250 tip shapes, most of which are unique to Razertip. Our CSA NRTL/C safety certification covers both Canada and the USA. This makes Razertip tools the only hot-wire pyrographs that can be legally sold in every province and state in North America.

If you're looking for great value in a lifetime-quality tool at a competitive price, Razertip can fit the bill. Our SS-D10-1L power supply is made to stand up to serious professional use, yet simple enough for a child to operate (under adult supervision):

• 10 amps of output provide the fastest tip-heat recovery in the industry
• Ideal wide-range temperature control won't scorch wood at "1" through to "red-hot" at 10
• The only safety certified hot-wire pyrographic tool on the market. CSA NRTL/C safety certification (CSA#LR95555)
• Accept all Razertip pens and accessories
• With available adapter cords will accept most any brand of pen, too
• Indexed handpiece indicator lights can help confirm proper pen and cord operation
• Ultra stable control circuitry maintains consistent burns even when turned on-and-off-and-on again
• Removeable handpiece cords allow use of 18 gauge (extra flex) or 16 guage (heavy duty) cords
• Unconditional warranty covers everything (and we mean everything) for 3 years on the power supply and one year on all handpieces including fixed tips. Even if you drop your pen and break the tip – it's covered!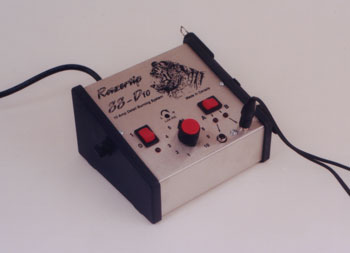 The
SS-D10
is the
Razertip
's workhorse, with many features not found on any other burner. Dual handpiece capability allows you to have 2 pens plugged in at the same time and change between them at the flick of a switch. This is particularly useful if your work calls for frequent handpiece changes. It saves time and wear on the connectors. The
SS-D10
's extra low-end temperature adjustment allows you to turn the heat down further if the "1" setting is still too hot. If you are sculpting wax or detailing plastics, you'll love the extra range available on the low end of the SS-D10. Choice of regular or heavy-duty pen included.
To expand your collection of Razertip Fixed-Tip pens, we offer a huge selection of individual pens. Please Click on the following links for more information about our Razertip pens and accessories:
Razertip Fixed Tip Pens
Razertip Fixed Tip Pens - #18 Series
Razertip Fixed Tip Pens - #20 Series
Razertip Fixed Tip Pens - #90 Series
Razertip Fixes Tip Pens - #99 Series
Razertip Cords & Adapters
---
HINTS FOR CARE AND USE OF RAZERTIP PENS AND TIPS:

Need to clean your pen?
Never use abrasives for cleaning carbon from tips. Our special tip cleaner/scraper works best. A good alternative is to scrape off the carbon using a snap-off blade knife Always use the lowest heat setting you can. If you can turn the burner down and still do the job – do it! Your tips will last longer, you'll have more control, you'll get a cleaner burn, your tip won't carbon up as quickly, and it's cooler on the fingers.
Broken or damaged tip?
Don't worry – and please, don't throw out the damaged pen! All Razertip products have been designed to be serviced if necessary. Give us a call – you'll be surprised at what we can do with your old pen, cord, or burner. Repair charges are always reasonable with a quick turn-around.
Can't find what you need?
A Custom Tip my be just what you need, and we can make 'em. Just let us know what you need – we're here to serve you.
---
RAZERTIP POWER SUPPLY QUESTIONS:


1. How to I use my Detailer (Colwood) pens or my Nibsburner pens with the Razertip power supply?
Answer:
CORD #2HD or ADAPTER AD-1
2. How do I use my Razertip pens with the Detailer (Colwood) power supply?
Answer:
CORD #1HD or CORD #4HD (#4 has lugs for hard wiring).
3. How do I use my Detailmaster (Leisure Time) pens with the Razertip power supply?
Answer:
ADAPTER AD-2
4. How do I use my Razertip pens with the Detailmaster (Leisure Time) power supply?
Answer:
CORD #3HD or Adapter AD-3
---
WARRANTY INFORMATION:

Your Razertip pyrographic tool is warranted to be free from defects in manufacture for a period of three (3) years on the power supply and one (1) year on fixed tip pens. This warranty provides for repair or replacement, at the manufacturer's option, of any defective components. This warranty is limited to the actual cost of repairs and will not cover shipping costs or any consequential damages resulting from failure of the unit or its components to perform as stated. All warranty work must be done by the manufacturer. The manufacturer WILL NOT cover the costs of repair done elsewhere.

Warranty will be voided if unit has been tampered with or altered or if repaired by unauthorized persons or companies. In the unlikely event that your burner or handpiece should need service, our average turn around time is only one day. To received in or out-of-warranty servicing, return the COMPLETE UNIT INCLUDING ANY CORD(S), PEN(S), AND / OR TIP(S) to The Caning Shop, send directly (prepaid) to Razertip Industries, Inc.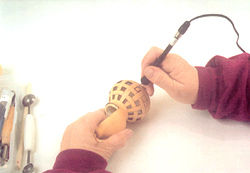 Carolyn Rushton using the TUF-1SHD
Razertip
Pen
to cut out the pattern in this 'basket' gourd.
---
RAZERTIP FAQ:

Why do different manufacturers boast about their watts and amps?
"Watts are not amps. Some manufacturers state that their tools vary between 20 and 130 watts. It has been proven beyond any doubt that there are no burners that exceed 45 watts. Detail Master's and Nibsburner's claims of 130 watts of output are false; they are both under 40 watts. Also, the statement that "the higher the watts, the quicker you can draw" is not completely accurate. As a general statement, with all things being equal, it is true. However, you need to take into account the ability to supply current (amps) to the tip. High current flow is critical to tip heat recovery. Our Razertip 2 volt transformers are rated at 10 amps. It is the amperage, not the voltage that gives fast tip recovery. Detail Master and Nibs operate at around 3 volts (compared to our Razertip's 2 volts). In theory, the extra voltage helps with faster tip heat recovery, and it gives them a 50% increase in wattage over us, but it has the unfortunate by-product of heating up the cord and the handpiece body faster as well. Then there is the tip wire itself. Our Razertip pens use an alloy that doesn't require nearly as much power to heat it as the Detail Master wire does (Razertip's more energy efficient), so our Razertip standard tips running on 2 volts will recover their heat as quickly as the heavier Detail Master and Nibs tips operating at 3 volts.
"As a thumbnail guide, watts can be roughly calculated as amps x volts. Using this quick method of estimating watts, our Razertip burner comes in at 20 watts (2 volts x 10 amps). The Detail Master/Nibs burners would come in at 30 watts (10 amps x 3 volts - assuming a 10 amp transformer rating; I don't believe their transformers are actually rated this high). Razertip could achieve 20 watts by using 120 volts and 1/6 amps, or 20 volts at 1 amp, but our Razertip burner wouldn't work well because everything would get hot. The lower the voltage, the better - but if the voltage gets too low, contact becomes an issue. It's easier to keep consistent contact at higher voltages. We could also easily change to a 3 volt transformer (like Detail Master and Nibs), but our pen bodies and cords would heat up too quickly, and I doubt that CSA would pass a 3 volt burner because of a risk to the operator burning himself on a hot pen body. I believe that we have a better product because of the lower voltage and overall design."
| | |
| --- | --- |
| | --Cam Merkel for Razertip Industries |