The Caning Shop's
Gourd Drill™
is a tiny 15,000+ rpm high-speed rotary tool. It comes with a universal chuck which accepts drills and burs with shanks up to 1/8" diamter, including dental bits!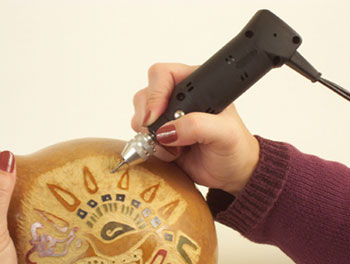 With its light weight (just 5.5 ounces) and compact size, the
Gourd Drill™
is the most suitable tool for carving gourds. Use the
Gourd Drill™
with our
Proxxon
NG2 or NG5/3 power supplies.
The
Gourd Drill™
is a 15-volt tool and
requires
a transformer (power supply).
Please note: THE DRILL WILL NOT RUN WITHOUT A POWER SUPPLY.
We recommend our #70029 Variable Speed Gourd Power Supply for $39.95. We also carry adapter cords if you already have a Proxxon (#70012 $4.95), Minicraft (#70003 $4.95) or Monster (#70012 $4.95) power supply (transformer).