Clamp your walking cane to a table or any projecting surface whether it is horizontal, vertical or diagonal!
PRICE INCLUDES SHIPPING! Just use the word CLAMP as a coupon code at checkout!
Clamps to the table. Clamps to your chair. Clamps to handicap grab bars. Clamps to anything up to 5" thick!
Here's
The Cane Clamp
with a flashlight attached to the shelf using sticky-backed hook and loop connectors (Velcro).
And, another photo demonstrates
The Cane Clamp
as a smart phone holder.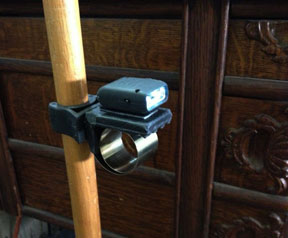 &nbsp&nbsp&nbsp&nbsp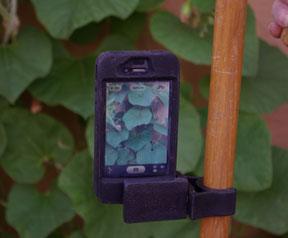 No need to remove the clamp from your cane. It has many uses!
Patent # US 9,307,855,B2 issued April 12, 2016.