Set of three Fineline Applicator bottles with air-tight, non-clogging syringe tips in three sizes: 16g, 18g and 20g.
All three style applicators allow for precise and controlled placement of liquids as diverse as acrylics, watercolors, oil paints, adhesives, resins, inks, dyes, lubricants, stains, glazes, gutta, slurry and latex resists and masking fluids.
The uses for Fineline Applicators are as broad and diverse as the liquids they can dispense: painting, scrapbooking, arts and crafts, ceramics, glass etching, fabric painting, gourd decoration, furniture repair and restoration, model making, beading, jewelry making and repair, fly tying and fingernail decoration.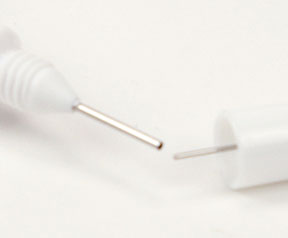 Detail of stainless steel, syringe tip with the FL air-tight non-clogging Cap Wire closure system to insure that the applicator is always available for immediate use and the liquids flow smoothly.